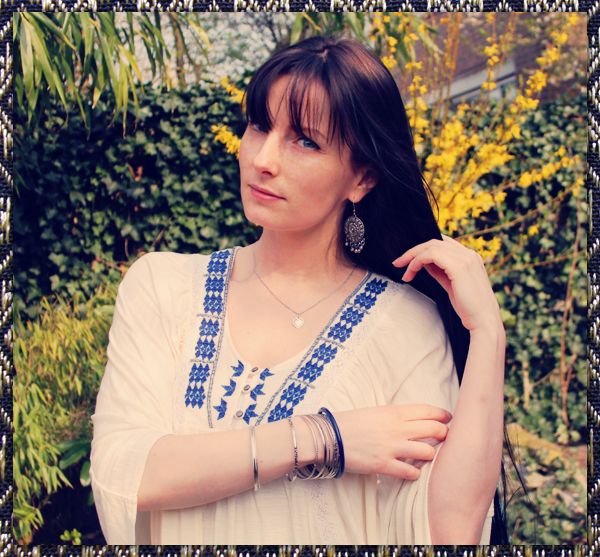 Hello! My name is Lucia Flores (aka Lucie), a passionate
Eco-Friendly
fashion designer and artist, born and raised in the
Netherlands
. I'm the owner and creator of
The Bohemian Dream
on Etsy. I love everything eco-friendly, organic and vegan. I love animals, healthy cooking and Star Wars! Next to upcycling OOAK Bohemian garments, I'm a fanatic gamer. My sewing machine or my Xbox; all day, every day! Other things I'm obsessed with are: System of a Down, Harry Potter books and Game of Thrones.
Since childhood I knew what I wanted to become, a fashion designer, just like my grandmother. She has been my biggest inspiration and she has thought me real craftsmanship from as far as I can remember. I grew up in a Hippie environment, as a child of free-spirited parents, with no boundries and limitless ways to express my creativity through any kind of art. As a child, I went to Waldorf school where I was tought to learn with heart, soul and hands, to truly find my identity and place in this world. In 2009 I started my studies on a private Fashion Academy in Breda, The Netherlands, to gain the fundamental knowledge surrounding Fashion Design and to extend my artistic skills further.
I opened my first business in 2010. In the few years that I worked as a fashion designer I realized it's not all about the new brands and the newest trends. One of the reasons why I started designing clothing made from recycled materials was really simple; I didn't want to be part of the fashion industry as it exists today. Why would you buy something new if there's already so much beautiful clothing around? Throwing away usable clothing just really didn't made sense to me. I wanted to make a change.
I've always loved vintage and second hand treasures and recycled everything I owned (not only clothing, but everything else as well). For my future career I decided to solely use recycled, organic and fairtrade materials only. The Bohemian Dream was born in 2013! I have been creating my collections with love and passion, it has become a lifestyle. It's not a job, my work is a part of me. I see creating one of a kind upcycled garments as an extension of myself, a way to show who I am as an individual.
My work reflects not only an optional technique but also my personal lifestyle, values and goals. Altering clothing and accessories has changed my view on fashion and gave me the opportunity to free my mind on creativity, applying my vision into something existing. Helping the environment, as well the goodwill by investing my money for materials into charity, gives me a lot of satisfaction! All materials come from vintage markets, the goodwill or the salvation army. 99% of the money that I invest on my materials for my business goes straight towards charity. The Bohemian Dream is my life, my love and my happiness.
I started this blog in 2011, to share my work and story with like-minded people and as a way to register my life, my work and my interests, like a diary for myself. I really didn't think it would grow into what it is today. I've met amazing people, collaborated with awesome companies and artists and most importantly; I made friends for life!
Thank you so much for taking the time to read my bio. I appreciate it a lot! If you have any questions whatsoever about my designs or process, I would gladly hear from you!
Sending you my Hugs and my Love,
Lucia Flores